Wednesday 8th December, 7.00 - 9.00pm
The two Bristol based illustrators
Ben Newman
and
Bjørn Lie
along with writer, Scott Donaldson will be signing copies of their new books whilst plying themselves with copious amounts of alcohol. Wine and nibbles will be supplied on the night so come along and pick up that ideal Christmas present.
http://www.facebook.com/event.php?eid=133471713373577#!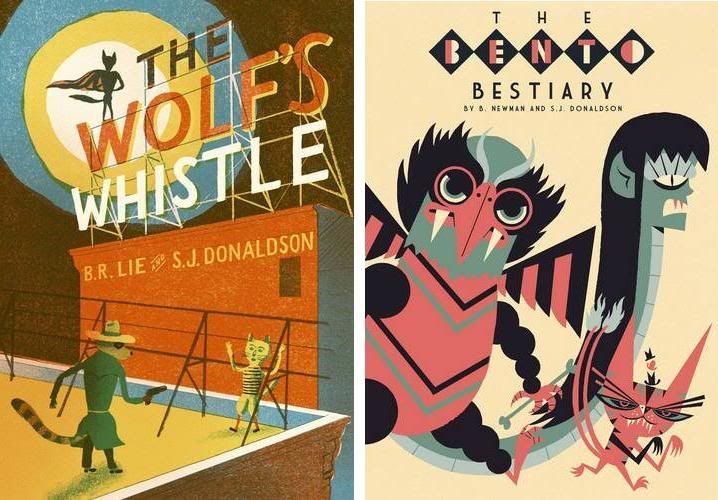 The Bento Bestiary
Illustrated by Ben Newman, Words by Scott James Donaldson
In the 18th Century, Japanese artist Toriyama Sekien attempted to depict each spirit of the 'yokai' tradition; an antiquated race of demons whose descendents would later terrorise the earth, and go by the names of Godzilla, Mothra and Rodan. Now, two men aim to rediscover the near-forgotten yokai, and return these ancient beasts to their former glory, in the form of the Bento Bestiary.
14 spirits are lovingly rendered in bold, colourful illustrations, using just 4 spot colours to bring the beastly, and bizarre, very much to life. Newman draws heavily on early and mid-20th century design in his work, incorporating worldwide themes from European deco to Japanese film posters and 50's American cartoons, never losing his strong sense of a most English deadpan humour.
Each image is complimented with words from Donaldson. Whether detailing the love letters of Nure-onna (a gigantic snake-headed woman), or a poetic treatise on the child-eating desires of the Kappa (a sort of strange, perverted turtle), the writer always has one foot in the carnival tent, one on the streets of noir, and the other inside a restaurant; a sort of freakish, hungry, Raymond Chandler.
The Wolf's Whistle
Illustrated by Bjørn Rune Lie, Words by Scott James Donaldson
The first installment in the Nobrow 'Behind the Tails' series which explores the back-stories of fairy tales' most notorious villains. The first follows Albert, a comic-creating, scrawny little wolf who spends his lunch break drawing and dreaming of selling his story to Wonder Comics. In reality he is terrorised by the three bratty Honey-­­roast brothers, sons of the local property magnate, who will stop at nothing to torment their weaker classmates. Eventually Albert is forced to take arms against his oppressors and fulfill his destiny as the crime-fighting Lone Wolf.
This fairy tale prologue is beautifully crafted by Bjørn Lie's versatile hand and imagination. Using just 3 spot colours, Bjørn has created a rich, eye catching illustrations that harkens back to mid-century Americana with a prohibition twist with a cast of bizarre and outlandish characters of extreme proportions. A timeless treat for the young and the young at heart.
Both books are published by
Nobrow Press
.